Alipur Past Presidents
The Anjuman-e-jafria of Alipur has been an integral part of the community since its establishment in 1930. Over the years, the organization has had the privilege of being led by several dedicated individuals who have played a vital role in its growth and development. The list of past presidents of Alipur provides a glimpse into the rich history of this esteemed organization and its contributions to the community.
From its inception until 1970, the Anjuman-e-jafria was headed by Late Syed Sajjad Ali, who served as its first president, and Janab Late Taqu saheb and Janab Rahman Ali, who served as secretaries. Together, they led the organization for a remarkable 40 years, during which time they laid the foundation for its continued success. The by-laws written by Mr. Late Mir Musthaq Ali, based on Islamic rules and the Indian constitution, serve as a testament to the organization's commitment to transparency, accountability, and ethical governance.
As the Anjuman-e-jafria continues to evolve and adapt to the changing needs of the community, it is important to recognize and honor the contributions of its past presidents who have helped shape its legacy.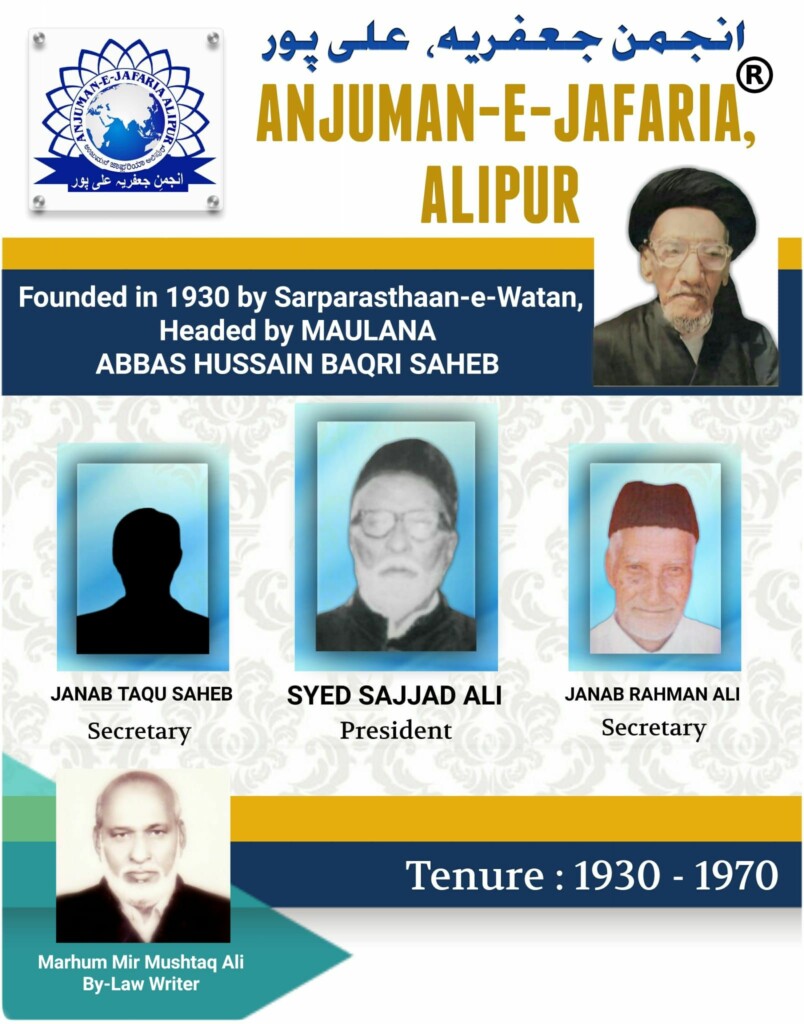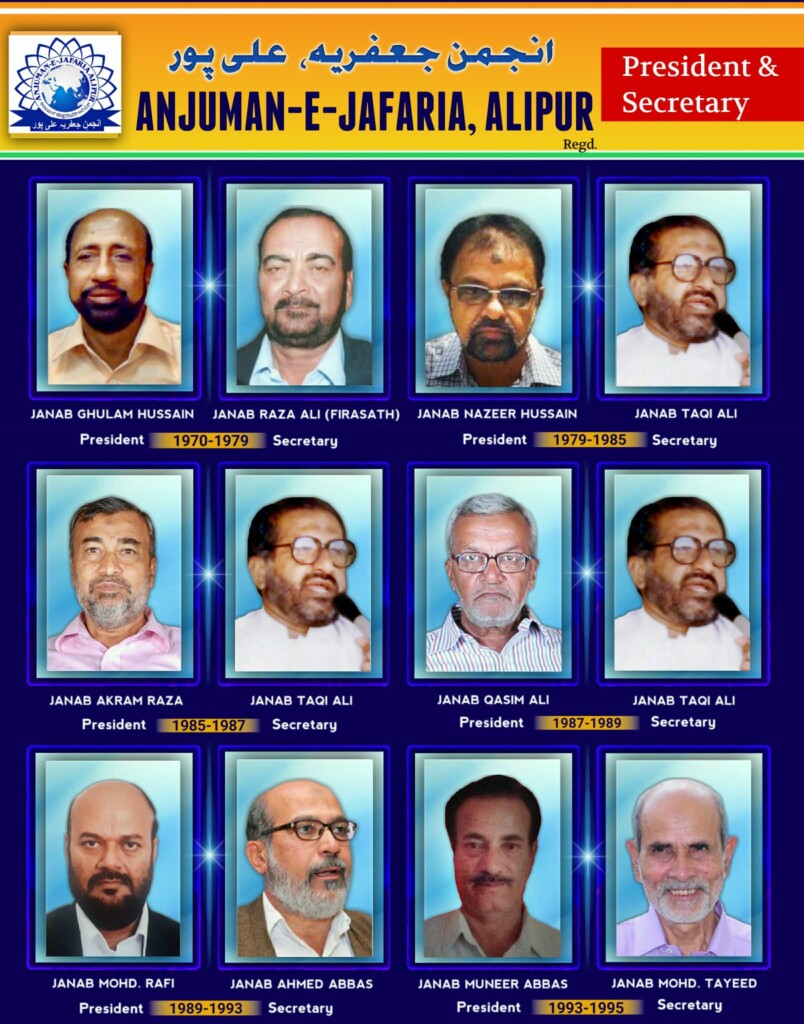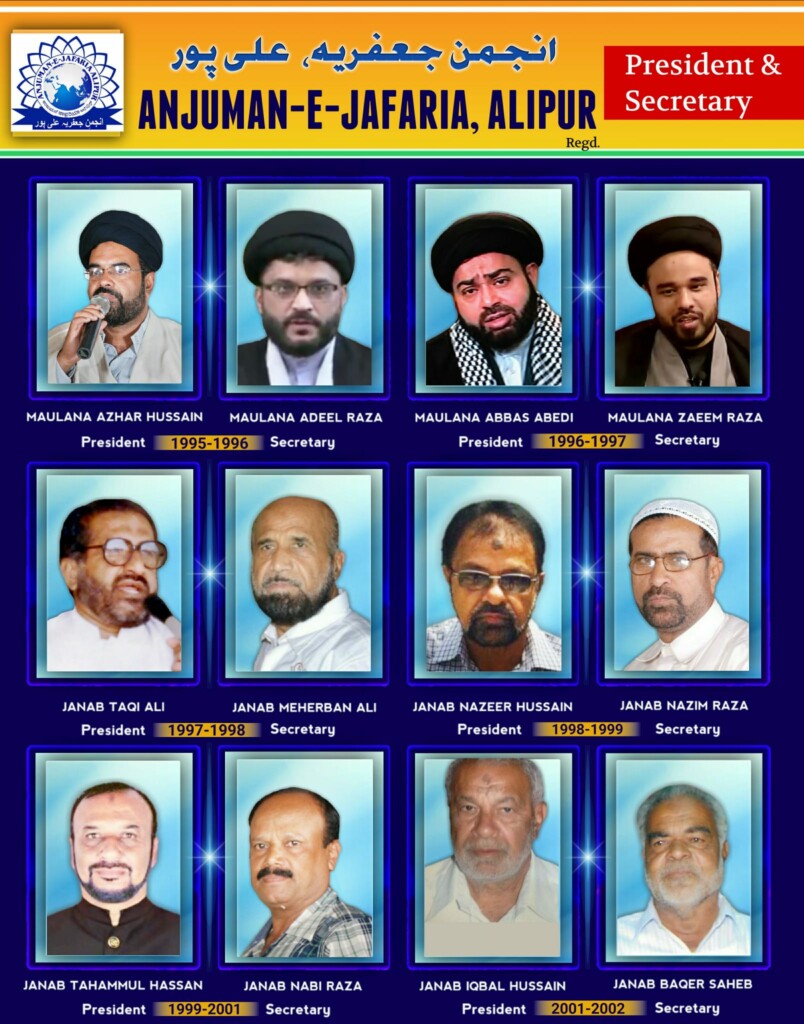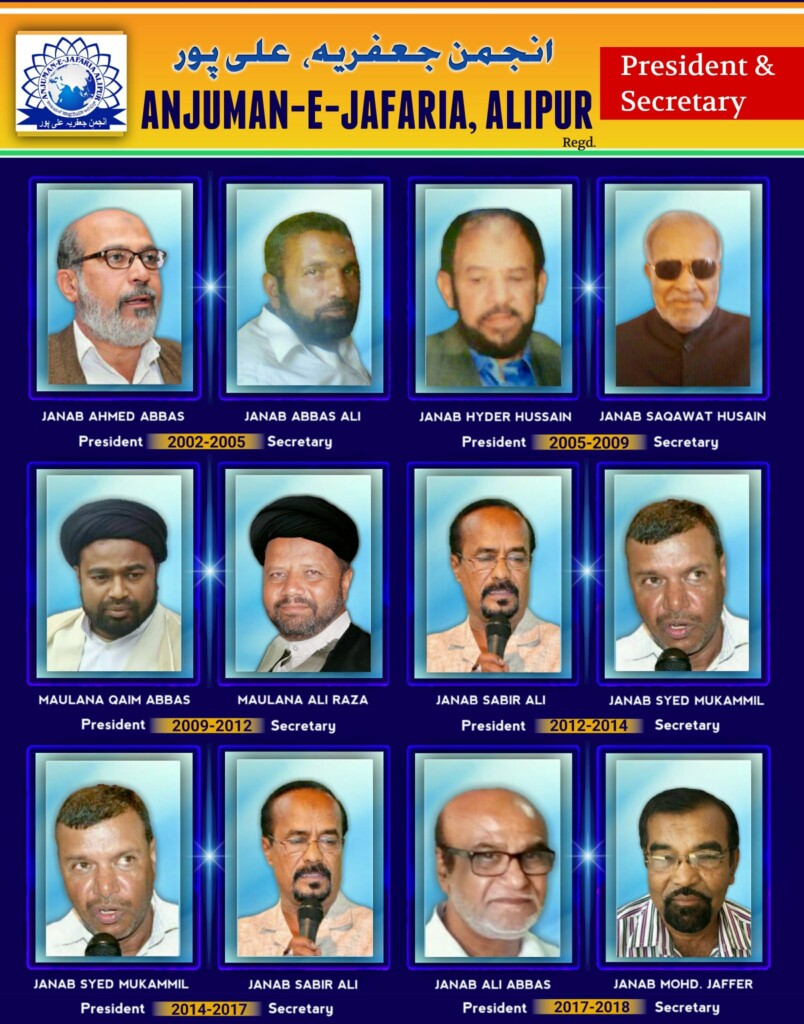 It is with heavy hearts that we remember and honor those who have lost their lives while serving the Anjuman-e-jafria of Alipur. These individuals dedicated themselves selflessly to the betterment of the community and their contributions will never be forgotten. We request everyone to recite Sura e Fatiha in their memory and pray that their souls rest in peace.
At the same time, we also recognize and appreciate those who have served the Anjuman-e-jafria of Alipur with great dedication and commitment and who are still with us today. We pray for their long life and good health so that they may continue to guide and inspire us in the years to come. Let us express our gratitude to them for their tireless efforts and unwavering support, which have helped the Anjuman-e-jafria to thrive and serve the community in meaningful ways.
As we move forward, let us continue to uphold the values of service, compassion, and unity that these individuals have exemplified and strive to build a brighter future for our community, guided by their inspiring legacy.
Please note that the above list of past presidents has been created by the dedicated team of AMC to the best of their knowledge. However, as humans, we may make mistakes. If you come across any errors or have any suggestions for improvements, we warmly welcome your feedback. Please send us an email at amc@alipur.info so that we can make the necessary corrections or updates. Thank you for your continued support.
We hope that the above information about the past presidents of Alipur and the Anjuman-e-jafria has been informative and useful to you. As we continue to work towards serving the community and preserving its rich history, we remain committed to accuracy, transparency, and inclusivity in all our endeavors.
If you wish to use the information provided above for research, publication, or any other purpose, we kindly request you to follow our brand guidelines to ensure proper attribution and usage. Please click here to access our guidelines, which outline the proper use of our logo, content, and other assets.